Meet our community
It's crucial to us that we are a positive part of our neighbourhood, through supporting social enterprises and good businesses and through connecting with our local community.
Allow us to introduce you to some kindred spirits and inspiring members of our network below — and please pop in and say hello if you're passing by.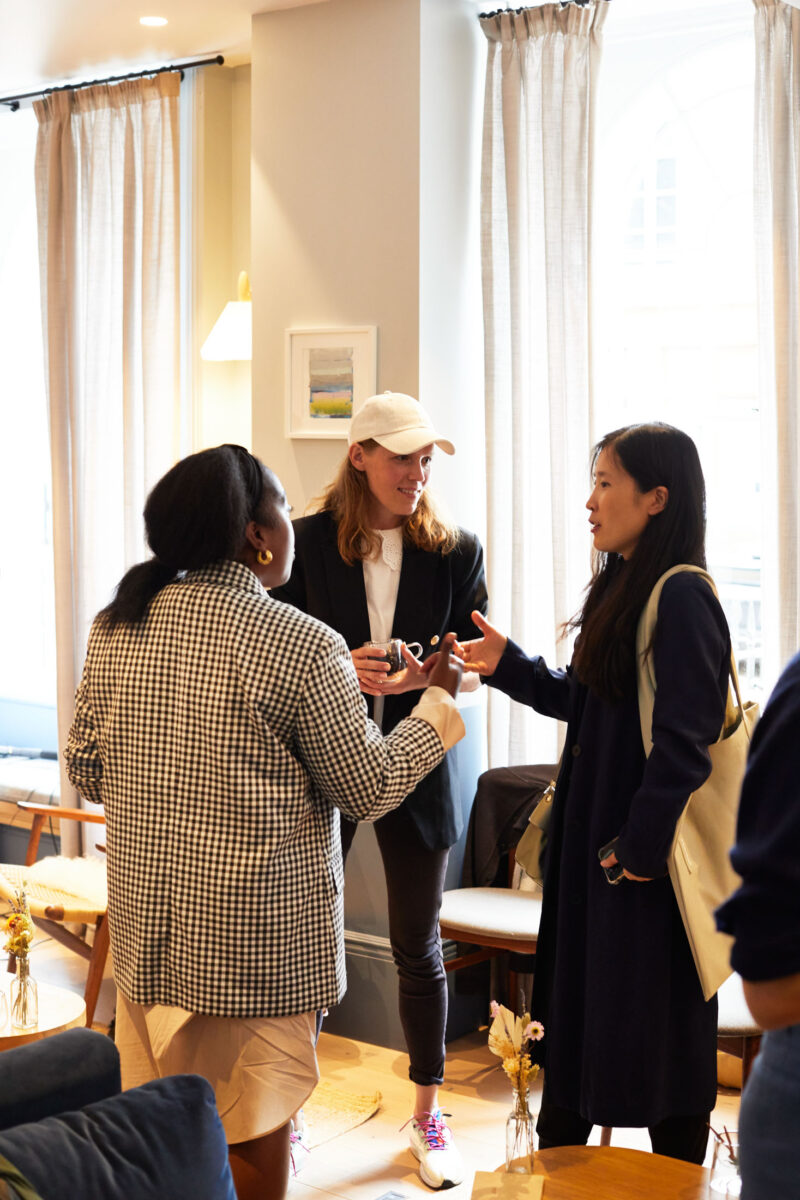 Aerende
An award-winning online shop that sells ethical homewares and gifts, all of which are handmade in the UK by people facing social challenges. In the rooms at Inhabit, you'll find beautiful cushion covers sewn by Studio 306.
Studio ND
Thoughtful, environmentally conscious designers and makers based in South London, beloved by Inhabit Hotels. Inhabit's rooms feature a hand-made lock box made by Studio ND for your phone, to encourage you to switch off for the night.
Women in Travel CIC
Women in Travel CIC is the UK based, award winning social enterprise dedicated to empowering ALL women using travel, tourism and hospitality as a 'force for good'. We believe that empowered women thrive and in turn, foster thriving communities.
Culture A
Culture A has curated a holistic art programme at both of our properties, to engage guests in a multidisciplinary art experience that celebrates Inhabit's mission, London sensibility, and Scandinavian style.
IQAir
This Swiss-based company helps to clean the air zones in our public areas. The high-performance air-filtration system uses leakage-free HEPA filtration to filter unwanted airborne pollution out of the air. It is IQAir's mission to reduce people's exposure to air pollution by creating clean air zones in cities.
Considerate Hotels
Considerate Hotels has two top priorities for guests: hospitality, and leaving a good impression. However, the brand believes that neither of these concerns should come at the cost of the environment. From small changes to far-reaching policy decisions, Considerate Hotels know enough about how hospitality works to help make an impact that we can all be proud of.
Bouteco
Bouteco helps hotel lovers find the best boutique eco-hotels. Not a booking platform or a paid-for portfolio, consider this non-profit your trusted friend. Bouteco works with forward-thinking hoteliers to communicate their sustainability, conservation work and social responsibility in a way that luxury travellers can make better-informed decisions.
Who Gives A Crap
Who Gives A Crap produces eco-conscious toilet paper and donates 50% of its profits to help build toilets and improve sanitation in the developing world. You'll find the brand's cheeky toilet paper used throughout Inhabit Hotels.
Social Supermarket
Social Supermarket believes in a world where every business can be a force for good. By connecting you with social enterprises, you can buy from amazing brands that have a positive impact in the world. It works with more than 80 impact-led partners across the UK, featuring more than 1,000 products across food, drink, accessories and gifts.
The Self Space
Understanding that the way we feel fundamentally impacts all areas of life, part of the Self Space's offering is collaborating with companies, organisations, co-working spaces, universities, schools and other interesting spaces — to facilitate inspiring talks, groups and workshops that focus on specific themes that enhance mental health awareness and wellbeing, explore group dynamics and promote accessible and contemporary education around how to look after and maintain our mental health.
Granby Workshop
Granby Workshop is a manufacturer of architectural ceramics, based in Liverpool. Craft techniques are combined with an experimental sensibility to develop new architectural materials and finishes. Granby works and Holland Harvey designed and made the bespoke terrazzo reception desk at Inhabit Queen's Gardens, utilising the original marble and stone that was initially removed from the site, creating a unique reimagined desk that artfully references its former life.
Kioskafe
Around the corner from Southwick Street you'11 find the Monocle Kioskcafe, a concept café and publishing shop. An ode to the printed word, Monocle's treasure trove of magazines, newspapers and journals is an institution in the local area: an antidote to the shrinking printed news trade. Browse and enticing array of global titles, from Germany's Der Spiegel to Italy's L'Espresso. You'11 notice many of Kioskcafe's thoughtful and enlightening titles in Inhabit's own libraries.
GoBoat London
Ahoy there! This self-drive boating experience lets you explore London by water. Glide through Little Venice, watch people passing by along Regent's Canal and see Paddington from a new perspective. Afternoons spent on the water make falling in love with London inevitable. Bring your family and friends along and don't forget a picnic! No boating experience is necessary to captain your own ship.
Doughlicious
This health-conscious company makes matcha cookies, offered at Inhabit's two hotels as a welcome treat for all guests. Doughlicious is mindful of minimising food waste and bakes the exact number of cookies needed for each order.
Naturalmat
Naturalmat have been pioneering sustainability in the mattress industry since 1999. All of their beds, mattresses & bedding are made by hand at their solar-powered workshop on the banks of the River Exe in Devon and their raw materials come from natural, renewable sources. Their 'Mattress for Life Initiative' is a first of its kind in the UK and ensures that a Naturalmat mattress will never end up in landfill. When the time comes, their mattresses can either be refurbished, recycled or cleaned and donated to charity. Learn more online, or visit their showrooms in London, the Cotswolds & Devon.
Become part of our community by exploring our press section.